Hafiz Yatim | The Edge Markets
---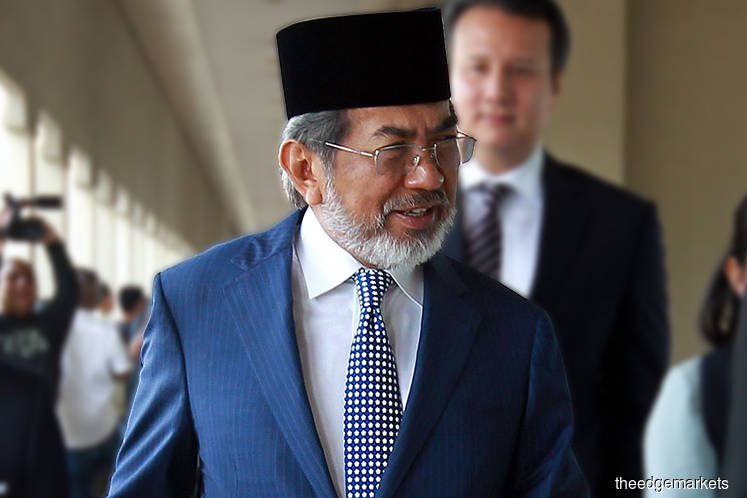 PUTRAJAYA (July 23): Former Sabah Chief Minister Tan Sri Musa Aman, who is facing 51 charges for receiving bribes and money laundering, has today been allowed by the Court of Appeal to retrieve his passport to resume medical treatment overseas.
The unanimous decision was made by a three-member appeal court bench led by Justice Datuk Abdul Rahman Sebli, with the other two judges being Justice Datuk Kamardin Hashim and Justice Datuk Zabariah Mohd Yusof.
The decision was disclosed by Musa's lawyer Amer Hamzah Arshad to theedgemarkets.com when contacted today.
"The Sessions Court judge didn't make any error of law. The High Court was wrong in exercising its revisionary powers," the lawyer said.
Amer Hamzah further explained that the Sessions Court judge applied the correct principles of law to the factual matrix of the case.
It was previously reported in Jan 16, that the High Court judge Justice Mohamad Zaini Mazlan had overturned the Sessions Court decision in granting the return of Musa's passport for him to resume seeking treatment overseas.
Musa wanted to seek treatment in Singapore and the United Kingdom, but Justice Zaini said the former Sabah Chief Minister must show he requires special medical attention that is not readily available in Malaysia.
The Sessions Court had granted the passport to Musa for him to seek treatment overseas despite facing many serious charges 10 days before the High Court made its decision.
Prior to him being charged late last year, the former Sabah Chief Minister was said to be in the United Kingdom after the 14th general election on May 9, 2018.
Musa had on Nov 5 last year claimed trial to 35 counts of graft involving US$63 million he allegedly received in Hong Kong and Singapore as an inducement for offering timber concessions in Sabah.
He was then charged with and claimed trial to 16 counts of money laundering in March this year.
Under the money laundering allegations, Musa is charged for directing his proxy Richard Christopher Barnes, who is also his lawyer, to open a UBS AG Bank account (0/231,117/01,00) in Singapore on June 21, 2006 to allegedly receive the illegal money.
Alternatively, he is charged for asking Barnes to hide the fact that the bank account is owned by him to conceal the receipt of the illegal proceeds at the same place and time.
Besides this, Musa is also charged with 14 other counts of receiving illegal proceeds to the amount of US$37.8 million and S$2.5 million at the UBS AG branch in Hong Kong between June 21, 2006 and March 25, 2008.
The former Sabah Chief Minister also faces a final charge for directing Barnes to transfer all assets and future inflow from Barnes' UBS account to his own UBS account (230-750692.01) in Zurich on May 14, 2008.
It was also reported that Justice Collin Lawrence Sequerah had fixed trial dates from June 8 next year up to June 25, then from July 6 to July 23, 2020.
---
Source: https://www.theedgemarkets.com/article/court-appeals-allows-former-sabah-cm-get-passport-back